UNIQUE BUCKSKIN TOBIANO CURLY PONY STALLION
Coming all the way from Washington State in USA!
Europe's smallest Curly Stallion, only 107 cm, which is the smallest pony category
The world's only inspected and approved Curly stallion smaller than 142 cm
Can be bred to ALL Curly mares in Europe with NO inbreeding (except his own daughters/sisters of course)
Very good temperament, gentle and non spooky
Good conformation and gorgeous trot
High fertility, most mares have been pregnant on first heat
Great color genetics, with being heterozygous for tobiano, black, cream and agouti, so will produce a variety of colors from traditional to fancy.
Easy to handle, trained to drive, has been ridden some
Pasture breed or hand breed, even breed large mares from a platform
Can be pastured with mares and foals
UPDATE: Bucky is now residing in France
Estimation of the market for Curly Ponies in Europe.
25%-50% of children and young people suffer from some kind of allergy, asthma or hypersensitivity. Around 7% suffer from horse allergy specifically. In Europe there are around 7 million horses. To be very restrictive, can we assume that 1% of the horse population is kids' ponies. That means a potential market of 50000 hypoallergenic ponies in Europe. Even if only a fraction actually can and will buy a Curly Pony, there should be plenty opportunity to sell curly ponies. And if you want to offer riding lessons or theurapeutic riding with hypoallergenic ponies, you will be the first in Europe to do so.
Bucky's first European offspring was foaled summer of 2008, *Pennsylvania Dream (Penny), which we have kept as riding pony for our son. Penny was the smallest curly foal ever in Europe.
The year after we got *Carolina Dream, a full sister to Penny, which sold as a foal to a family in Norway. We also got a unique pair of medium size ponies, out of our larger mares. Those are *Washington Dream and *Wisconsin Dream.
Bucky was then sold to UK and produced several foals there before being sold to France.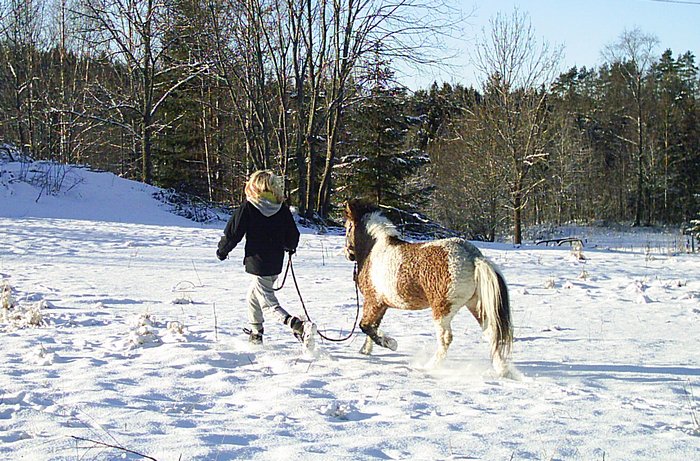 Snow, sun, fun, a Curly Pony - Can it be any better? :-)
---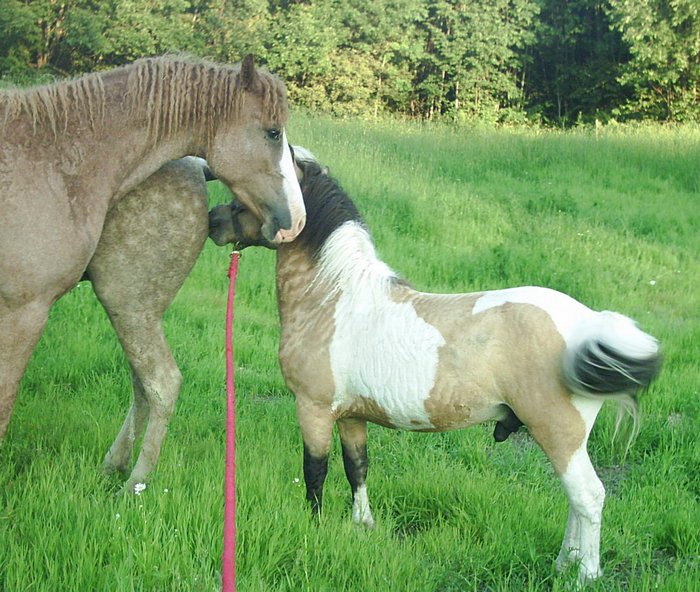 Bucky teasing the large mares - June 2008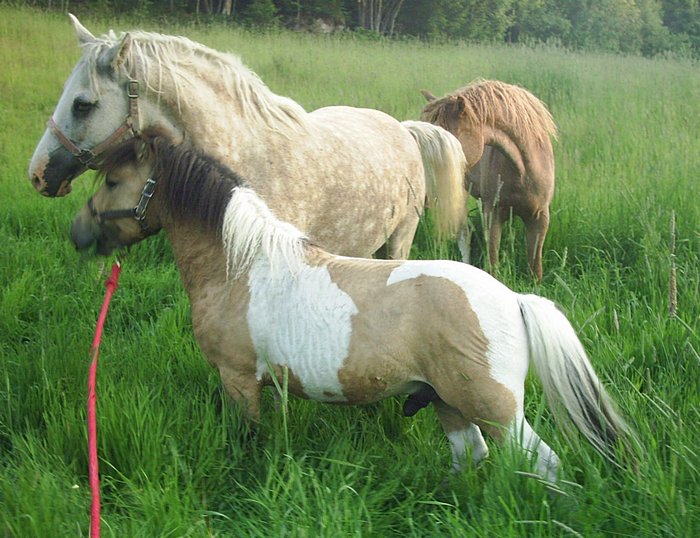 Bucky teasing the large mares - June 2008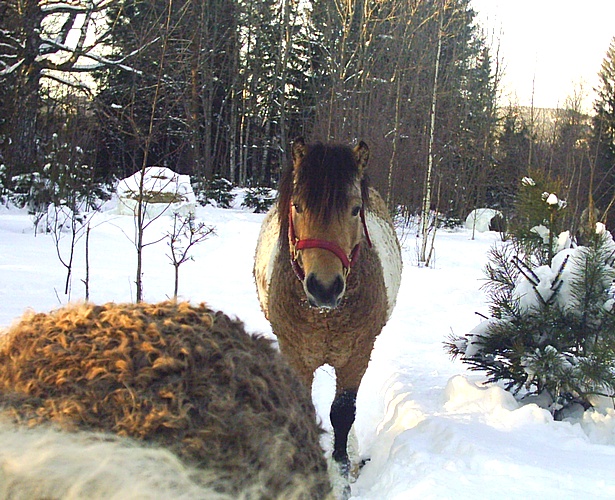 Bucky in his herd - March 2008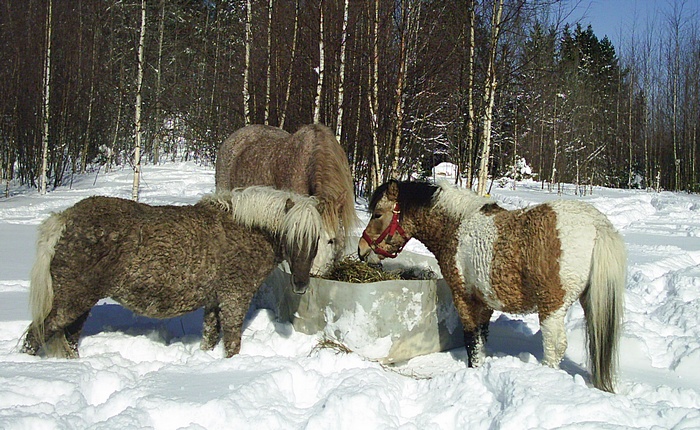 Bucky in his herd - March 2008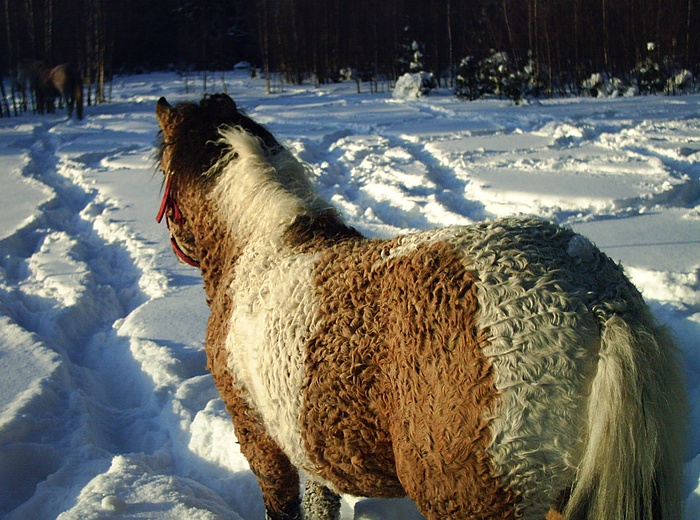 Bucky in the snow - March 2008
---
Pictures from the stallion inspection - March 2008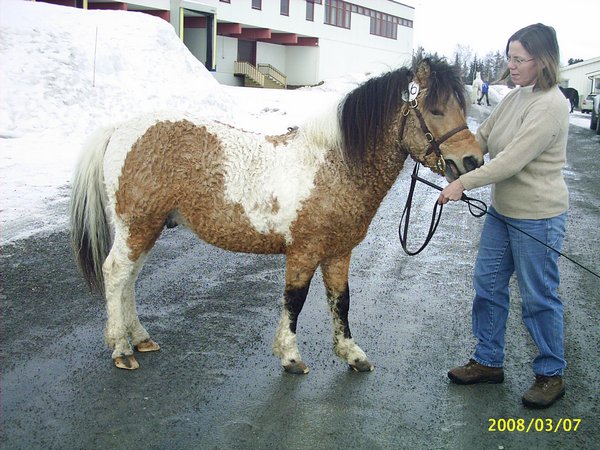 Waiting for the first appearance for the judges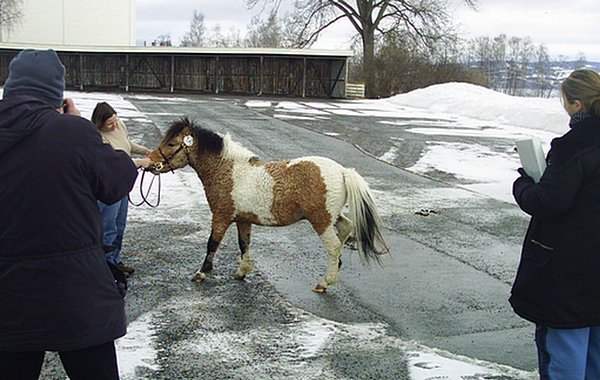 Showing on hard surface - trying to make him stand correctly for the judges

Now we have been through all sections, which is showing on hard surface, showing by hand and
free running in the arena, veterinary inspection with flex test, driving test and measuring.
We are waiting outside the arena to go in for the final appearance and receive the judging.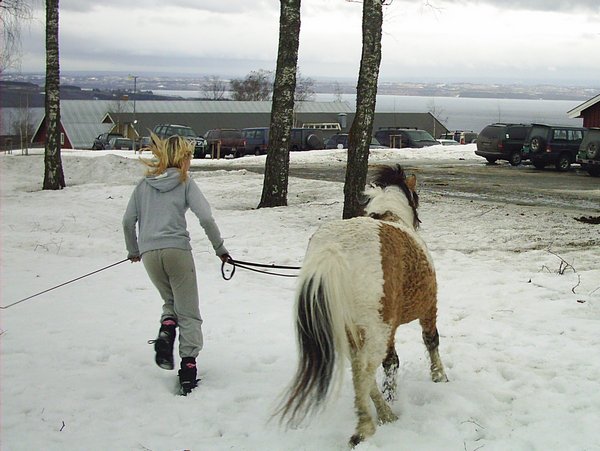 And we are waiting...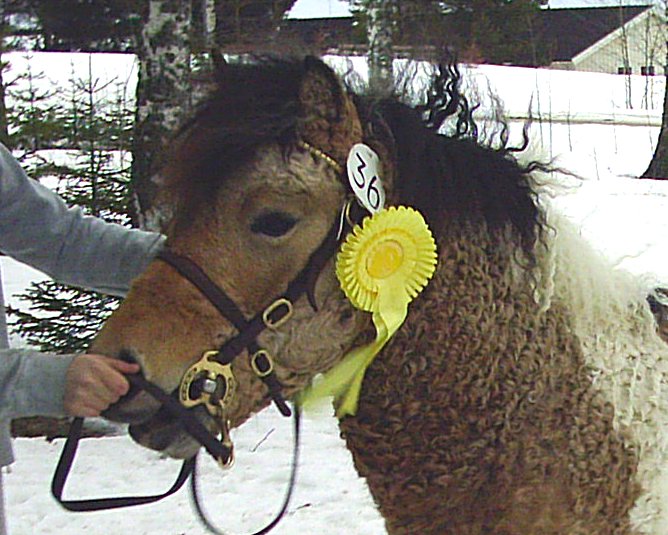 Finally! The Yellow Ribbon (for approved stallions) is ours!
---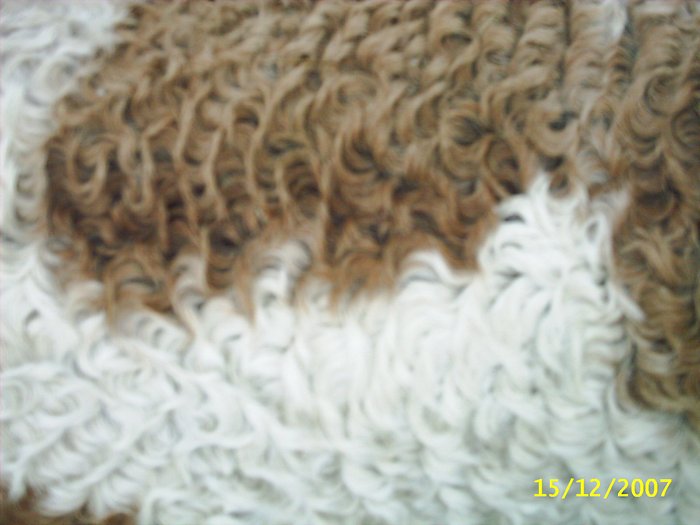 Close up of winter coat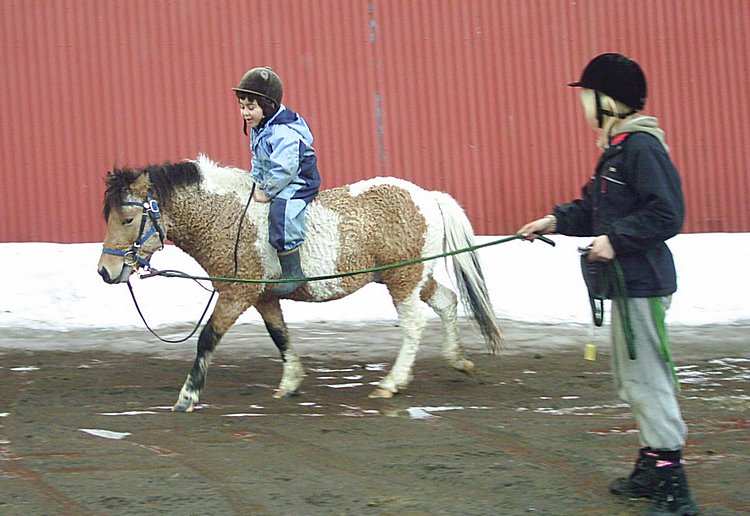 - riding training - Feb 2008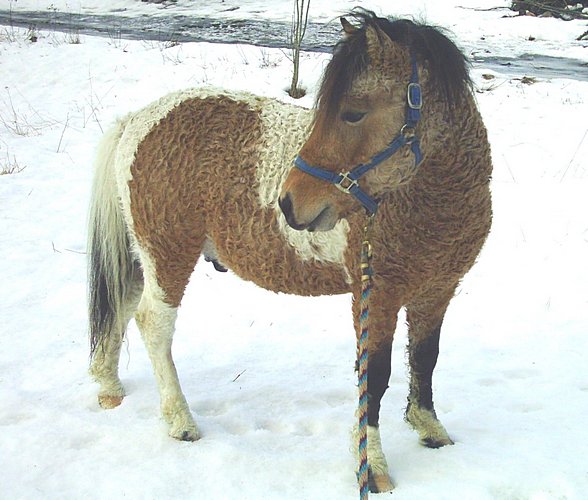 January 2008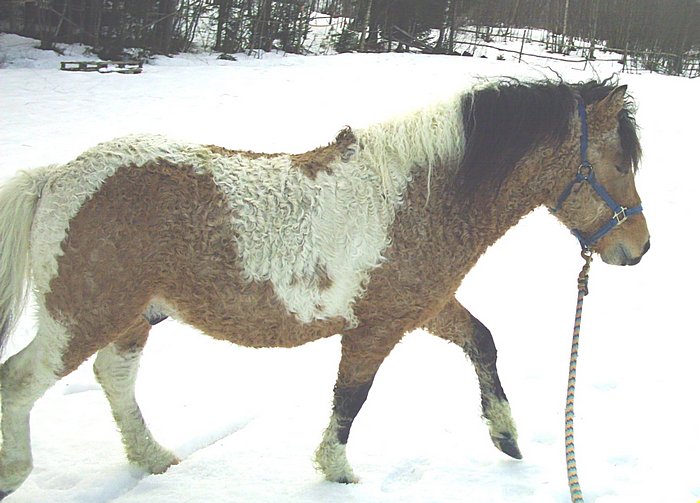 Longe training - Jan 2008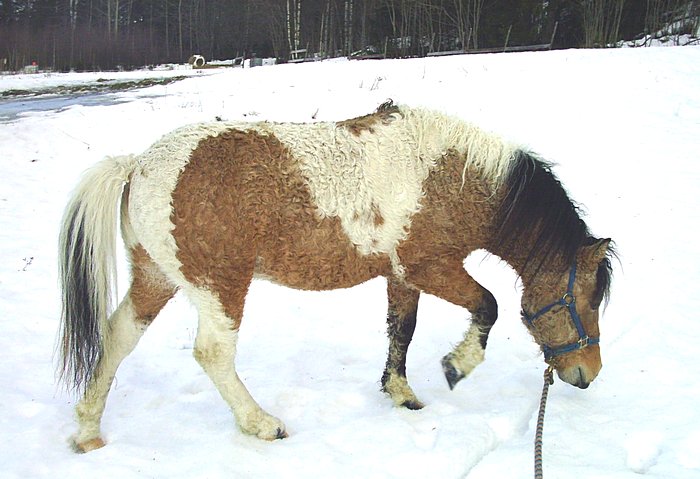 Walking - Jan 2008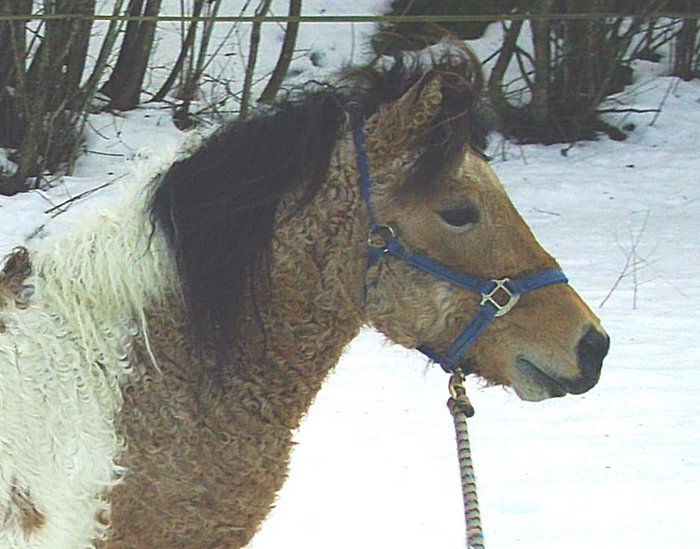 January 2008
---

...

Press BACK in your browser to go back to previous page. --- No frames visible, stuck in somebody else's frames or is it wrong language? Go to the front page and start over.
Trykk på TILBAKE i nettleseren din for å gå tilbake til forrige side. --- Ingen ramme synlig, sitter du fast i andre sine rammer eller er det feil språk? Gå til forsiden og start på nytt.