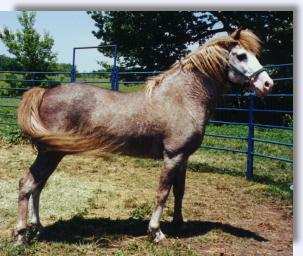 *Sir Patrick MJT
.
Sorrel sabino stallion f. 1981, ABC-274, MFTHBA 81-56615, AFTHBA 81-8000.
Breeder: Means/Johnson/Tune (?), MO.
Owner: Richardson's Curlies, IA.
Sire: Zane's Big Mac, MFTHBA 8578.
Dam: *Lad's Curly Queen, MFTHBA 12958.
Patrick is of Curly Jim bloodline through his dam, and of world champion Missouri Fox Trotter bloodlines through his sire which is a son of the famous Zane Gray. He has until now been the only foxtrotting (MFTHBA) dominant Curly stallion standing at stud that has no Walker's Prince T in his pedigree, which makes him an excellent outcross for Walker's Prince T line mares. He is beautifully gaited and a handsome guy. Picture is taken when he was 19 years old. Patrick is one of five dominant Curly stallions approved for MFTHBA eligible offspring.