NORSK
Ella fikk cert, BIR og BIG3 i Borreparken 2. mai 2015
Første gangen vi har fått stilt Ella i Norge. Flott resultat!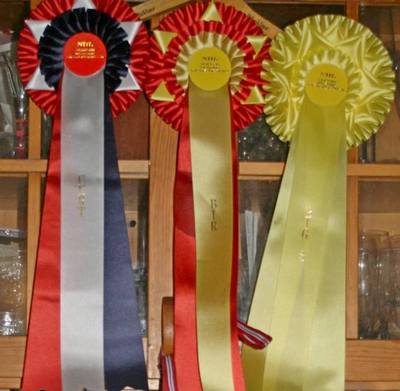 Ellas rosetter fra utstillingen
Ella's ribbons from the dog show
---
Ella er vår første storpuddel (også kalt kongepuddel). Hun kommer fra Flying Curls i Sveits. Ella kom til Norge i april 2010 and var den første phantom-fargede (black and tan) puddelen i Norge!

Ella er stammor for phantom storpuddelavlen i Norge. Hun har fått tre flotte kull for oss, i 2012, 2013 og 2015. Våre tisper får maks tre kull før de blir pensjonert fra avlen og er familiehunder på heltid. Men noen av Ellas avkom har også fått valper og de valper igjen, så hun har minst 160 etterkommere.

Ellas stamtavle

HISTORIEN OM ELLA:

Ella er min første hund. Vi hadde alltid katt hjemme hos oss da jeg var barn, aldri hatt hund. Og puddel har jeg vel bare sett på avstand og på bilder som noen oppfriserte dyr. Vel, så feil kan man ta!

Jeg har en venninne i Sveits, med curlyhester slik som oss. Første gangen vi var på besøk, var i 2005, da vi var på bilferie i Europa. Sandra og familien bor i vakre Emmental. Hun hadde da fått sin første hund, etter mye testing av forskjellige raser på grunn av allergi i familien, så endte de de opp med puddel, en svart storpuddel tispe. Jeg tenkte det var fint de fant en hund som var allergivennlig og tenkte ikke stort mere over det.

Neste gang jeg besøkte Sandra var i 2007, med fly og tog og baby på under et år. Da hadde Sandra fått Phantom som er en black & cream storpuddel hann, wow, hvilken stor, vakker, intelligent hund! Sandra hadde i lange tider forsøkt å finne en phantom tispevalp i USA men det var visst helt umulig. Da hun tilslutt fant den 6 måneder gamle hannhunden Phantom så bestemte hun seg for å importere ham i stedet. Der og da bestemte jeg meg for at når vi skulle ha hund skulle det være en slik som Phantom, hvis ikke kunne det bare være!

Men det var ikke lett å finne en phantom storpuddeltispe og etter endel søking bestemte jeg meg for å vente på valp fra Sandra. Sandra gikk den lange veien med å parre sin svarte tispe med Phantom. Fordi black and tan er recessivt blir da alle valpene svarte, men er bærer av genet. Sandra beholdt avlsrett på blant annet Ananja fra første kullet. Da Ananja ble parret med El Paco, en black & tan hannhund, skulle i teorien halvparten av valpene bli phantom og halvparten svarte. Nå hadde vi kommet til 2010 og jeg sto øverst på den ti personer lange ventelisten for phantom tispevalp. Ananja fikk valper den 2. februar 2010. Først kom det seks svarte valper. Så en black & tan hannvalp. Helt til slutt, den åttende valpen, var en black & cream tispe! Jippii! Endelig! Synd for de ni andre på ventelisten men jeg var lykkelig :-) Og ekstra heldig for valpen er en kopi drømmehunden Phantom, hennes bestefar. Phantom kommer i mange variasjoner, fra de som bare har litt brune/røde avtegn til de som har store lyse avtegn slik som Phantom.

Navnet Ella hadde liksom satt seg i hodet, selv før Sandra spurte om vi ville velge navn selv. Jeg vurderte andre navn men Ella kom tilbake igjen og igjen. Så det ble Ella of Flying Curls. I april 2010 fløy jeg til Sveits og hentet hjem Ella.

Ella er en fantastisk hund. Suverent flinkest på valpekurset med minimal hjemmetrening. Hun lærer seg ting selv og virker som om hun skjønner alt vi sier :-) Alle hundemennesker som treffer Ella skryter av gemyttet hennes. Ella går løs her hjemme på gården. Hver dag går hun av seg selv på besøk til naboen som bor på nærmeste gård. Hun sitter i rullestol og har en eldre hund. Så kjører de på tur sammen alle tre. Dette er noe Ella har funnet på selv, og gjør det mer lystbetont for den gamle hunden å gå på tur.

Mest av alt imponerte Ella meg sommeren 2011. Fordi tofargede pudler ikke er "tillatt" i Norge (dette var før vi fikk ja fra Norges Hunder Landsforbund), så reiste vi til Tyskland for å vise Ella på avlsgodkjenning. I begynnelsen av juli lastet jeg opp den for anledning nyinnkjøpte bilen med bagasje, hund, fire år gammel gutt og kjørte sørover. Bastøfergen, gjennom Sverige og til min venninne i Skåne som har hestegård med masse hunder og katter i tillegg. Der fant jeg ut hvor utrolig lettvint det er å ha med Ella på tur. Ella fikk gå løs mens vi gikk rundt og så på alle hestene. Plutselig var hun borte. Engstelig ropte jeg, og Ella kom løpende. Dette gjentok seg flere ganger til jeg forsto at hun utforsket gården men holdt seg innen hørevidde. Så beveget vi menneskene oss til baksiden av låven og Ella fant oss nok ikke. Da jeg kom tilbake så lå hun ved bilen. Dette ble en gjennomgangstone og noe hun hadde lært seg selv. Holde seg innen hørevidde og hvis hun ikke finner meg, legg seg ved bilen.
Neste besøkssted var i Danmark, også en hestegård. Vi sov i stuen som har åpen løsning med kjøkkenet. Tidlig neste morgen var vertskapet oppe og spiste frokost med de to små barna som skulle i barnehagen. Vi sov lenge, vi hadde tross alt ferie :-) Ella, som elsker barn, lå stille på gulvet ved sofaen min til tross for aktivitet i samme rom. Først da jeg sto opp gjorde hun det samme.

Slik fortsatte reisen fra sted til sted. Et sted kunne vi ikke ha med hund inn og Ella sov i bilen. Ikke noe problem for henne! Behøvde aldri være redd for at hun skulle løpe av gårde når vi stoppet på bensinstasjoner og rasteplasser, selv om vi gjerne hadde henne i bånd hvis vi var veldig nære autobahn.

På utstillingen oppførte hun seg som en drøm til tross for at det sikkert var over hundre hunder der. Utstillingen gikk bra og Ella ble avlsgodkjent. Hvis du kan tysk kan du lese bedømmingen her: Ellas avlsbedømming

5000 km totalt kjørte vi på denne turen og tok fire ferger. Noen koser seg på hytta eller i Syden i sommerferien, vi tar en skikkelig road trip :-) Helt ned til Østerrikse grensen var vi, da vi hadde hoppe som sto til bedekning der, så vi måtte jo besøke Queen og se på hingsten vi hadde valgt ut for henne. Ella oppførte seg så og si eksemplarisk hele veien.

Høst og vinter gikk og Ella fylte to år og gammel nok til å bli parret. Jeg søkte etter passende hannhund, men phantom storpuddel avlshanner er veldig sjeldne og de fleste er langt sør i Tyskland eller enda lenger borte. Til slutt falt valget på Lord Conner som bor i Düsseldorfområdet. Men Ella kom i løpetid i februar. Perfekt å få valper om våren, men ikke like gøy å kjøre på langtur i februar med glatte veier. Ikke noe å gjøre med det, ta ut en uke av ferien, av med vinterdekkene og på med sommerdekkene (piggdekk er forbudt i Tyskland).

Laste opp bilen igjen med bagasje, hund, sønn på 5 år og jente på 12 år. Denne gangen tok vi en snarere vei, SuperSpeed til Danmark, så nesten ned til tyske grensen, overnatte hos venner, videre neste dag gjennom Tyskland med GPS som tar kvelden og det blir også sent på kvelden før vi får navigert oss fram til en ny hestegård hvor vi har curlyvenner. Neste morgen bærer det av sted til Lord Conner, flott og snill hund og med to vakre aprikos damer i huset også. Ikke lett å kommunisere med Monika som bare snakker tysk og jeg som ikke snakker tysk men det går på et vis ;-) Ella viser seg å være reseptiv, 9 dager inn i løpetiden og det blir parring. Vi avtaler å møtes igjen om to dager. Da blir det parring igjen før vi setter kursen hjemover, med en omvei øst for Hannover for å hilse på curlyvenner der også.

Vi var veldig spent på om alt strevet og utgiftene har båret frukter, men da Ella får større jur er vi ganske sikre på at det er ting på gang. Problemet var at jeg skulle på jobbreise til Paris når Ella hadde termin. Urolig for hvordan det skulle gå om det var veldig mange valper (to av Ellas kusiner fikk tolv valper hver, i første kullet!, og med to ukers mellomrom på valpingene. Sandra jobbet døgnet rundt i ukesvis med å supplere valpene med melkeerstatning). Så vi tar røntgen i slutten av drektigheten og bildet viser fem valper. Lettet over det, det er jo første kullet og vi er ganske nybegynnere selv om Alf hadde et valpekull på sin husky for mange mange år siden. Jeg drar til Paris og dagen etter starter valpingen. Det ble mange telefonsamtaler med mann og barn som var jordmødre, men valpingen gikk raskt og problemfritt og Ella var veldig flink til å ta seg av dem. Alle valpene er sunne og friske, ganske jevn fødselsvekt, og fin fordeling av kjønn og farger.

Ella er en hund som gjør til en udelt glede å være hundeeier. Alltid blid og hyggelig, veldig intelligent, lettlært og lett å ha med å gjøre. Alltid villig til å være med på tur, enten til fots eller med bilen, alltid villig til å leke og ha det gøy men er helt avslappet inne og ellers når vi er rolige. Akkurat passe vakthund som varsler når det kommer folk eller biler til gårds, men som aldri bjeffer ellers. Går aldri i sofaen eller sengen, men holder seg til "sin" stol, med mindre hun blir invitert opp. Det holder med hvisking for å fortelle hva hun skal gjøre, stort sett, hun er jo veldig smart og litt utspekulert også, så er hun først på vei på sin daglige tur til nabogården kan det hende hun later som om hun ikke hører hvis man skal rope henne tilbake ;-) Hun beskytter også barna og vi har opplevd at hun har prøvd å stoppe sønnen vår hvis han skulle gjøre noe hun opplevde som farlig (skli ned en bratt skrent). Det er som regel en person hjemme hos oss, men er vi borte alle sammen er Ella like avslappet om hun må være hjemme alene en hel dag. Hvis vi drar avgårde mens hun er på sin daglige tur på egen hånd, så ligger hun og venter på trappen når vi kommer hjem. Hvis vi skal reise bort uten Ella er det helt problemfritt for henne og bo hos venner noen dager.

Best av alt er at Ella er helt allergifri for meg og jeg kan kose med henne så mye jeg orker (og hun er en ordentelig kosehund :-) uten å bli allergisk. Hør på sangen Ella elle l'a (Ella, she has it) og følg teksten, det passer så bra til Ella :-)
ENGLISH
Ella is our first Standard Poodle. She is bred by Flying Curls in Switzerland. Ella came to Norway in April 2010 and was the first phantom colored (black and tan) poodle in Norway!>
Ella's pedigree
THE STORY OF ELLA:
Ella is my first dog. We always had cats in our home when I was a child, never had a dog. And the Poodle, I had only seen at a distance and in pictures as some upstyled animals. Well, so wrong can you be!
I have a friend in Switzerland, with Curly horses like us. The first time we visited was in 2005 when we were on our road trip in Europe. Sandra and her family live in the beautiful Emmental. She had gotten her first dog, after much testing of different breeds because of allergies in the family, they ended up with a poodle, a black female Standard Poodle. I thought it was great they found a dog that was hypoallergenic but didn't think any longer about getting a poodle ourself.
Next time I visited Sandra was in 2007, by plane, trains and a 10 month old baby. Now Sandra had gotten Phantom which is a black and tan Standard Poodle male, wow, what a big, beautiful, intelligent dog! Sandra had for a long time tried to find a black and tan female puppy in the USA, but it was almost impossible. When she finally found the 6-month-old male Phantom she decided to import him instead. Then and there I decided that when we should have a dog there should be one like Phantom, or no dog at all!
But it was not easy to find a black and tan Standard Poodle girl and after some searching, I decided to wait for a puppy from Sandra. Sandra went the long way, mating her black Jira to Phantom. Because black and tan is recessive all the puppies are black, but carry the gene. Sandra retained breeding rights of Ananja from the first litter. When black Ananja was mated with El Paco, a black and tan male, in theory half of the pups will be black and tan and half of them black. Now, we have come to 2010 and I was at the top of the ten people long waiting list for a black and tan female puppy. Ananja delivered her puppies on the 2nd February 2010. First arrived six black puppies. Then a black and tan male puppy. Finally, the eighth puppy, was a black and tan girl! Jippii! Finally! Sorry for the nine others on the waiting list but I was happy :-) And extra lucky that the puppy's looks very much like my dream dog Phantom, her grandfather. Black and tan comes in many varieties, from those who just have a small brown markings to those with large, creme markings such as Phantom.
The name Ella had somehow sneaked into my head, even before Sandra asked if we would choose the name ourselves. I considered other names but Ella came back again and again. So it was Ella of Flying Curls. In April 2010 I flew to Switzerland and came home with Ella.
Ella is a wonderful dog. She was the quickest to learn at the puppy course with minimal training at home. She learns things herself and acts as if she understands everything we say :-) All dog people who meet Ella is bragging about her disposition. Ella goes loose here on the farm. Every day she goes by herself to visit a neighbor who lives at the nearest farm. The neighbor sits in a wheelchair and has an older dog. Then they drive on a walk together all three. This is something that Ella has found out herself, and makes it more fun for the old dog to go walking.
Most of all, Ella impressed me in the summer of 2011. Because the two-colored poodles are not allowed in Norway, we went to Germany to show Ella for breeding approval. In early July I loaded up the newly purchased car (that we had to buy in order to go to Germany...) with luggage, dog, four-year-old boy and drove southwards. A ferry trip, through Sweden and to my friend in southern Sweden on a horse farm with lots of dogs and cats as well. There I found out how incredibly easy it is to bring Ella. Ella walked loose while we walked around and looked at all the horses. Suddenly she was gone. Anxious, I called for her, and Ella came running. This was repeated several times until I realized that she explored the farm but remained within earshot. Then we proceeded to the back of the barn and Ella probably didn't find us there. When I came back as she layed beside the car. This became customary and something she had taught herself. Staying within earshot and if she does not find me, add up the car. Next place we visited was in Denmark, also a horse farm. We slept in the living room with open solution with the kitchen. Early next morning our hosts got up and ate breakfast with their two small children that got ready for kindergarten. We slept longer, after all, we were on holiday :-) Ella, who loves children, stayed quietly on the floor by my bed, despite activity in the same room. First when I got up she did the same.
This continued through the journey from place to place. One place we could not bring a dog inside and Ella slept in the car. No problem for her! I did not have to worry that she would run away when we stopped at gas stations and rest areas, but for safety we had her on a leash when we were close to the autobahn.
At the dog show, she behaved like a dream despite the fact that there were over a hundred dogs there. The inspection went well and Ella was approved. If you speak German you can read the judgement here: Ellas score card
5000 km in total we drove on this trip and with four ferry crossing. Some people spend their summer holiday in their vacation homes, we do a true road trip :-) Almost to the border of Austria we went. Ella behaved almost exemplary throughout the whole trip.
Autumn passed and winter came and Ella became two years old and old enough to be mated. I searched for a suitable male, but black and tan Standard Poodle stud dogs are very rare and most are far south in Germany, or even further away. Finally the choice fell on Lord Conner living in the Dusseldorf area. But Ella came into heat in February. Perfect for puppies in the spring, but not much fun to drive on a long trip in the winter. Nothing I could do with that, so I took a week of off work, off with the winter tires on the car and on with the summer tires (studded tires are illegal in Germany).
Load up the car with luggage, dog, 5 years old son and a 12 year old girl. This time we took a quicker route, SuperSpeed ferry to Denmark, and driving almost south to the German border, stay overnight with friends, then the next day through Germany with GPS that stops working and it is late at night before we have navigated our way to a another curly horse farm where we have friends. Next morning, to the home of the Lord Conner, beautiful and gentle dog with two beautiful apricot ladies in the house as well. Not easy to communicate with Monika who only speaks German and I do not speak German but we manage somehow :-) Ella turns out to be receptive, 9 days into her heat and the dogs mated. We agree to meet again in two days. Another mating before we head homewards, with a detour east of Hanover to meet curly horse friends there as well.
We were anxious to see if all the work and expense had borne fruit, but when Ella got larger udders, we are quite confident that there are puppies inside. My problem was that I had a work trip to Paris when Ella was due to deliver and worried about how it would go if there were many puppies.
So we take x-rays in late pregnancy and the picture shows five puppies. Relieved about that, it's our first litter and we are quite beginners, even if Alf had a litter on his Husky many many years ago. I leave for Paris and the day after the puppies arrive. There were many phone calls with her husband and children who were midwives, but the whelping went quick and smooth and Ella was very good at taking care of them. All puppies are healthy and well, quite even birth weight, and fine distribution of gender and color.
Ella is a dog that makes it a true pleasure to be a dog owner. Always cheerful and friendly, very intelligent, easy to learn and easy to handle. Always willing to take a trip, either on foot or by car, always willing to play and have fun but is completely relaxed in the house and otherwise when we are calm. She's enough watchdog to notify us when people or vehicles arrive the farm, but never barks otherwise. She does not hop up in the couches or beds, but keeps to "her own" chair. It is enough with whisper to give her commands, usually, she's very smart and a little cunning, too, if she first is on her way on her daily trip to the neighboring farm, she might pretend she did not hear if want are to call her back ;-)
She also protects children and we have seen that she has tried to stop our son when he was going to do something she experienced as dangerous (sliding down a steep slope). Usually one of us is at home with Ella or we take her with us, but no problem for her either to stay alone at home alone all day. If we go away when Ella is on her daily walk on her own, she lays on the steps waiting for us when we get home. If we are going on a holiday without Ella she is fine with staying with friends of us for a few days.
Best of all, Ella is hypoallergenic for me and I can cuddle her as much as I want (and she is a really cuddly dog :-) without becoming allergic. Listen to the song Ella Elle L'a (Ella, she has it) and follow the lyrics, it fits so well for Ella :-)